Dental Implant Cost: Three-Unit Bridge v. Single Dental Implant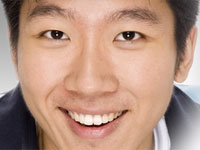 Tooth implants are considered the ultimate dental restoration solution for tooth replacement, especially when only a single tooth needs to be replaced.
Traditionally, the best dental restoration for a single missing tooth was a three-tooth bridge, better known as a three-unit bridge. This type of missing teeth restoration worked by linking three false teeth together. The middle tooth was used to bridge the gap. Even though this type of dental restoration was considered state-of-the-art for many years, it had its limitations.
For instance, the fabrication of a three-unit bridge required the teeth on both sides of the gap to be whittled down to allow for the false teeth to be slipped over the top of the teeth. Because the three teeth were linked together, they could not be cleaned in the same way as normal teeth. In addition, they required special dental cleaning tools in order to maintain healthy gum tissue.
Today, dental implants are the first choice to replace missing teeth and dental restoration. In the case of a single missing tooth, a tooth implant can be placed by the implant dentist in the jawbone area of the missing tooth. The implant will serve as a replacement for a tooth root and an individual dental crown. The total apparatus is referred to as a single-tooth implant crown.
Once in place, the dental implant crown will look, feel and function like your natural teeth. They are cleaned and flossed just like your natural teeth, and best of all, they do not require any special tools to clean around them, like bridges. Although tooth implants will not decay, they require that you maintain impeccable oral hygiene.
Does a Dental Implant Crown Last Forever?
Even though dental scientists are developing advanced materials to create a more durable crown, the old adage "nothing lasts forever" also applies to dental implant crowns. Because each patient is different, dental implant crowns last a varied amount of time depending on the patient.
Dental crowns that were thought to last only 3 to 5 years can last 10 to 20 years if meticulously cared for. On the other hand, dental crowns that should last for ten or more years can last only two years in a mouth that is neglected.
The dental implant cost factor is hard to determine precisely. The bottom line is that no one can tell you how long a tooth implant will last, but if you take excellent care of your mouth and see your dentist every six months, you stand a better chance of extending the life of your dental implants and other dental restorations.
How Does the Cost of a Dental Implant Crown Compare to a Three-Unit Bridge?
The cost of a three-unit bridge can range from $2,000 to $3,000. The cost of single tooth implants is approximately $3,000. If teeth associated with a dental bridge fail due to recurrent decay or periodontal disease, ordinarily, dental restoration must be done on the entire dental bridge and possibly add a new filling or build-up of the teeth.
The cost of any foundations under a new dental bridge will add to the dental restoration and tooth replacement cost. If and when a dental implant crown has to be reconstructed, most likely, it would be due to the wearing away of the dental crown material.
The only dental restoration cost would be for that of a new dental implant crown and would not incorporate any adjacent teeth. The dental implant cost over your lifetime would be much less than compared to a three-unit bridge, and is the most natural replacement for a missing tooth.
By Benjamin O. Watkins, III, DDS
Replacement Of Missing Teeth With Implant Dentistry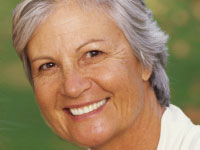 In implant dentistry, devices are used to replace missing teeth. They are made of titanium, an inert metal that bonds with the bone, forming a very tight union called osseointegration. The modern system of dental implants, the endosseous system, is extremely successful and has a 90% to 95% success rate.
The dental implant itself replaces the root of the tooth. It is usually in the shape of a screw or a cylinder. The implant connects to a component (the abutment) that joins the implant to the replacement tooth (the crown).
Dental implants are ideal replacements for teeth. When healthy teeth have to be prepared for crowns or bridges, healthy tooth structure needs to be removed. But if only one tooth is missing, the dental implant can simply replace it without having to sacrifice the adjacent teeth.
Dental implants can also be used to replace many missing teeth. Multiple teeth can be replaced with implant dentistry and can avoid the need for a removable denture. Removable dentures can be hard to get used to. They may have clasps that can be unsightly and put additional stress on the existing teeth. Full dentures may be difficult to wear and may interfere with eating and speaking. People who wear dentures for a long time may have additional loss of the bone that supports the denture. This bone loss can be accelerated by osteoporosis, and eventually dentures may be very difficult to wear if not impossible. Poor-fitting dentures can interfere with proper nutrition and quality of life.
Generally, one implant is needed to replace each missing tooth. In some situations, several implants need to be joined together into a bridge. This adds greater strength to the implant restoration. If there is not enough bone available to replace a whole set of teeth, implants may be used as anchors for dentures. When dentures are supported by implants they can be much more stable and the implants help prevent the deterioration of the bone that supports the denture.
The endosseous system of implant dentistry has been used for over 30 years. They can look and feel like natural teeth, adding comfort and improving the smile of people of all ages.
By Laura Minsk, DMD