Dental Implants - An Alternative To Missing Teeth: Are You A Candidate?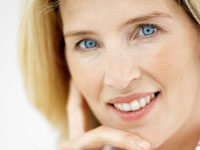 Are you missing a permanent tooth? Do you have gaps in your smile? Do you wear dentures and experience some of the following problems:
Slipping and clicking while talking?
Irritation and pain when you chew?
Fear of eating in public?
Feeling or looking older than your age?
You may be a candidate for dental implants, an alternative to missing teeth. Implant dentistry uses your jaw to hold a tooth replacement or bridge, rather than anchoring it to a healthy, neighboring tooth. The results are natural-looking teeth implants that look, feel and function as your own!
Healthy teeth are a gift we often take for granted. Losing one or more teeth impacts our smile, our confidence, and our enjoyment of our favorite foods. Dental implants are technology's way of taking us a step closer to a tooth replacement that feels secure and looks like our own.
What Is Involved in Getting Dental Implants?
Implants take several steps, but you will be able to continue your regular professional and social routines. Initially, the dentist will evaluate your mouth, teeth and jaw to determine whether dental implants are a good option for you.
For most patients, there are two surgical procedures involved. First, in the actual tooth implant placement, the implants are surgically inserted by an implant dentist into or atop the jawbone. Over the next three to six months, the implants are left alone, so that the anchor can bond to the bone, creating a strong foundation for the teeth to come.
Second, the new tooth or teeth are created and attached to the anchored dental implant. You now have teeth implants that might as well be your own: they look natural, are comfortable, and withstand the rigors of grinding and chewing. No one will know that your tooth has an artificial, man-made tooth implant root.
Dental Implants Are Not for Everyone
It's true. Your current dental health will influence whether you're a good candidate for a dental implants. Some medical conditions may interfere with normal healing, such as diabetes or heart problems. Finally, the supporting bone in your jaw must be healthy; if you clench your jaw or grind your teeth, the success rate for your dental implants will drop. Less success also is noted in smokers.
A complete examination and X-rays by your dentist will determine if you are a suitable candidate for dental implants. You must also commit to a strict schedule of flossing, brushing, rinsing, and check-ups to keep them healthy.
Proven Technology for a New Quality of Life
Technology gets the credit for this exciting alternative to missing teeth, dentures and bridges. Researchers noticed in the 1950s that titanium and some other materials formed a strong bond to the bone. That gave rise to the use of dental implants. Today, there are patients who have had dental implants for more than 25 years. Hundreds of thousands of tooth implants have been inserted, boasting more than a 90% success rate! Metal joint implants used in other parts of the body were actually developed from the success of dental implants.
It has been around for decades and people know it works. Schedule an evaluation with your dentist to determine if dental implants are right for you. Discover how they can improve your quality of life and put a genuine smile on your face.
By Brian J. Gray, DDS, MAGD, FICO
Your Tooth Implant Options
Dentistry has come a long way in the past 10 years - new cosmetic dentistry procedures, stronger dental materials, improved techniques all the way around.
Some of us, though, have not had the opportunity to take advantage of these breakthroughs until later in life. In fact, more than 42% of people over 65 have experienced significant tooth loss and must resort to dentures. Now there are options: dental implants.
Tooth replacement systems differ, but they are all intended to provide a better alternative to removable dentures. As any denture wearer will tell you, there's nothing more irritating than a slippery lower denture and the uncertainty it brings. An ill-fitting denture may cause accelerated bone loss, too, and aggravate oral decline. Teeth implants can bring back bite strength, stability and, most important, self-confidence.
The dental implant procedure is a three-stage process. First, an implant device is inserted into the upper or lower jawbone. Usually only local anesthesia is required, though a hospital stay may be advised. You will be given a temporary appliance so you can go on your way until the second stage.
After a healing period of some months, implant and bone have grown together. Posts are then attached to each tooth implant - these protrude through gum tissue. After a few weeks a fixed bridge or "overdenture," will be inserted. Then teeth will be attached to the posts. In some cases, an existing denture can be modified to secure over tooth implants comfortably.
The dental implant procedure takes some time and some money. You need sufficient viable bone in the jaw to support teeth implants, and a willingness to take good care of yourself during treatment. Finally, your expectations must be reasonable. Dental implants won't behave like natural teeth, but do promise better eating and speaking abilities and vitality.
Implant dentistry has been around for 25 years and the success stories are very impressive. In these, the best years of life, you owe yourself the gift of self-esteem. See your tooth implant dentist today!